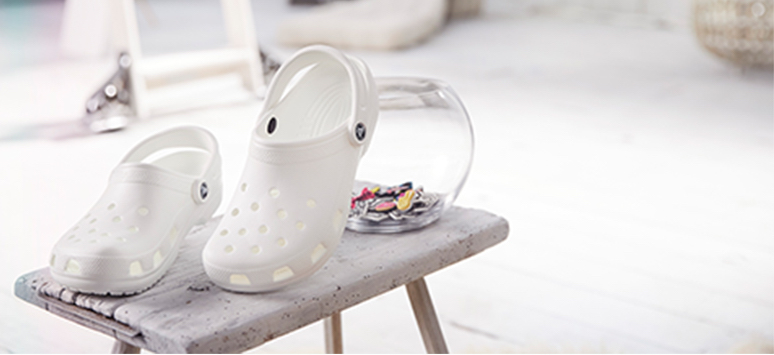 How to
Clean

Your Crocs

Cleaning your Crocs is easy and only takes a few

items to get them looking and feeling new again.

Croslite™ material
For Classic Clogs, slides, and other styles made only with our signature Croslite™ foam material, hand wash or spot clean with mild soap and cold water or use your washing machine's gentle cycle.
How to Clean Fuzzy Crocs
Can you wash fuzzy crocs? The answer is yes! For lined Crocs clogs and other styles with fuzz, the linings are not removable so it is recommended to gently clean with warm water and mild soap to remove dirt, debris or stains. Allow to air dry completely.
leather crocs styles
For leather Crocs styles, gently clean with a soft rubber sponge or slightly damp rag. Use a leather cream to restore shine and a protector spray to repel water.
If your Crocs are made with Smooth Napa Leather, remove dust and dirt with a damp rag, then use a cotton brush to apply a natural waxy shoe cream or wax. Apply slowly in spiral manner. Patent leather Crocs can be gently wiped off with a clean damp cloth or a professional product designed specifically to clean patent leather. Avoid the use of harsh chemicals such as alcohol, detergent or liquid as they will remove the shine and luster from your shoes. Standard leather Crocs without a finish can be gently cleaned with a damp rag or brush. Simply apply a waxy shoe cream, then polish with soft brush or cotton rag to maintain a natural luster.
wedges and heels
To clean synthetic wedges and heels, spot clean with a damp cloth to remove dust and dirt. Avoid solvent cleaners wherever possible as these may destroy the glue used to bond the sole.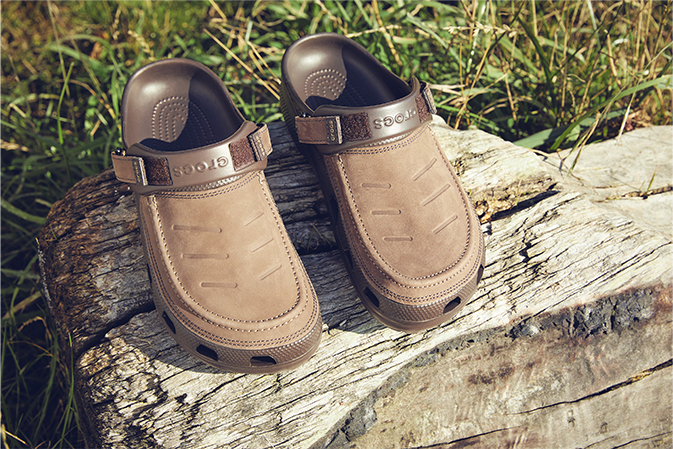 suede or wool
For suede or wool Crocs, gently clean the upper with a soft wire or plastic brush then apply a waterproofing spray. For Crocs with fleece, clean with mild soap and a damp rag or use your washing machine's gentle cycle with as little heat as possible.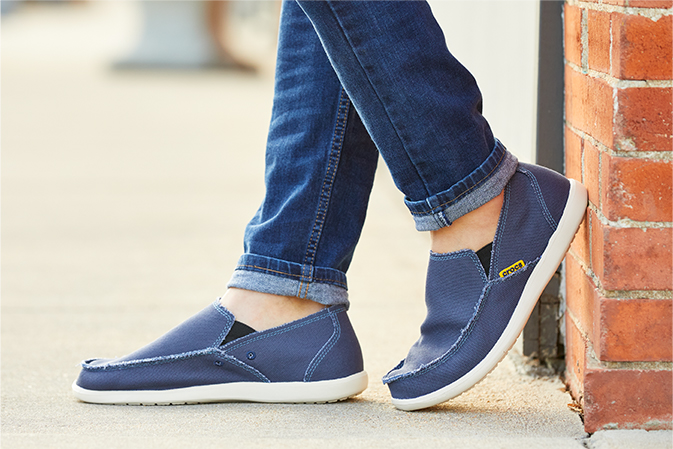 canvas styles
For elastic, stretch material, and canvas styles such as the Santa Cruz, treat with mild soap and use a damp rag or soft brush to remove dirt, debris or stains.
air dry
After cleaning, all styles should be air dried only. Exposure to extreme heat, sun, dishwashers, washing machines, or hot cars can cause the shoes to shrink or warp.